For longer than I care to admit, my sister had been not-so-subtly hinting to Crafty Auntie Karen, that Cutest-Nephew-Ever Eli needed wall hooks in his room for his towel and bathrobe. (phew, that was a mouthful of a sentence!)  Well, for Christmas, I finally delivered.
This was such a quick project, but I love how it turned out!  Cute enough for a little boy's room, but not so cutesy that it'll get swapped out when his interests change.
I apologize for not taking any progress pics, but I can assure you they'd be very boring since this project is so self-explanatory.
The piece of wood started it all.  I found it in the woodworking section at Michael's and with a coupon, it ended up being right around $5.  2 of the hooks I already had, and the third came from from Hobby Lobby for just a couple bucks (on sale as well).  The hooks, which started as silver, white and black, got sprayed with spraypaint that I already had in my paint collection, and were then screwed to the wood.  I did splurge on new screws so they'd be uniform and shiny.  After it was all said and done, this cute set of hooks cost less than $10!
So to recap the exhausting process:  spraypaint 3 hooks.  attach 3 hooks to piece of wood.  hang on wall.  Ta da!!
This project could easily be fancied up for a girl with different colors or more detailed hooks.  Seriously, the possibilities are endless!
I consider this a monstrous success simply with how happy Eli is with them.  If you ask to see his hooks, he'll happily take your hand, lead you upstairs to his room, then proceed to yank everything he can reach off the hooks.  Just look at that innocent face.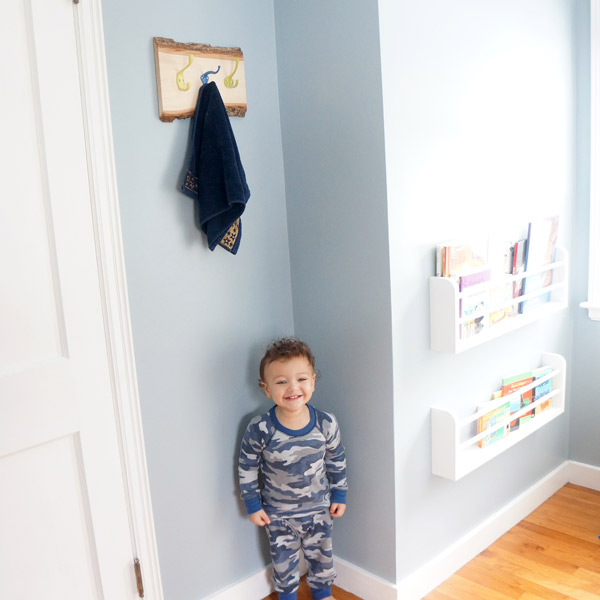 Yeah... maybe innocent isn't the right word.... anyway, he's still adorable, and I'm happy that he loves his new hooks!