This month, Wayfair is challenging bloggers to Blog it Forward.  Especially with all the unhappy things going on lately, I'm totally on board for spreading a bit of cheer!
Yesterday, I saw a news story about an 8 year old girl who lost her family in a fire in 2013.  Safyre suffered burns to most of her body as well, but she survived miraculously.  Despite her injuries and circumstances, this little girl, according to her aunt "wakes every morning with a smile on her face. She is the true definition of hope, faith and love."  If that isn't inspiring, I don't know what is!
This Christmas, Safyre told her aunt that she wanted to completely fill up a 4' tall card tree that her aunt had purchased.  Challenge accepted, Safyre!  After posting her wish to Facebook, Safyre's aunt has been overwhelmed by the response.  What better way to Blog it Forward than to put a smile on the face of a little girl.  The holiday cards that I had on hand seemed oddly appropriate, quoting Oscar Wilde "What is beautiful is a joy for all seasons..."
Right before I popped it in the mail, I thought about what might make an 8 year old smile.  I addressed it with a gold pen, and grabbed out my colored pencils to put a very quick doodle (don't judge- it's for a child...) on the envelope.  Then I added Daisy and Charlie's names to the inside of card "Meow."
If you'd like to send Safyre a Christmas card, here's the address: Safyre, P.O. Box 6126,  Schenectady NY 12306
There are so many other ways that you can share the love and hope this holiday season!  What about paying for a stranger's coffee, shoveling a neighbor's driveway or simply holding a door open with a smile? With so many people stressed out and rushing around, you'll be surprised by what a seemingly simple act of kindness can do.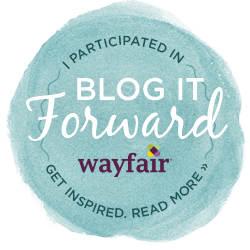 If you are also a blogger there's an extra special way that you can pay it forward as well: for each blogger in the month of December who posts about spreading cheer with the Wayfair Blog it Forward button above, Wayfair will donate $50 to Habitat for Humanity.  Win-win!
How do you plan to spread a bit of cheer this holiday season?