I'm a video game widow all weekend thanks to the annual arrival of PAX East (aka Geekfest Boston).  Hubby and all his friends have taken a 3 day weekend starting today and will be celebrating all that is nerdy.  I'll be adventuring without him, though.  Tomorrow, I'll be spending the day in NYC watching my amazingly talented sister-in-law, Lily Goodman in an off-broadway play, 13 Fat Girls and a Dead Cat- go see her!!!!! Do it!!  Shows are Tonight, tomorrow, and Monday.  Since I know you want to go, you can buy tickets here. Even though the weather is taunting us here in New England lately (is it freezing or summer-like?  who knows.  but don't worry, tomorrow'll be opposite), I'm starting to plot out my patio furnishings that I never got around to buying last summer.
Almost a year ago, I posted about my plans for some of the patio furniture here.  I almost had a patio crisis (yes dear friends who I know will mock me, its almost as bad as a shampoo crisis) when I realized that the red wrought iron chairs that I had my heart set on:
were no longer available from Kmart and they had a new style in its place that I didn't like so much: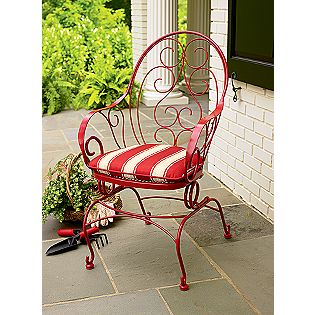 The newer chairs are a bit too frilly for my taste. I wanted LAST year's chairs!! Waaahh.  After a brief internal temper tantrum, I got determined.  Lo and behold, Sears now sells my coveted 'last year's model' chairs- AND they're on sale!!  I wasn't going to make the same mistake as last year- ya snooze, ya lose, right?
For a total of $301 I have 4 of these babies:
on their way to my local Sears just for me (it was free to ship to store and I like free).  These chairs have an overall silhouette much like their new counterpart, but I MUCH prefer the linear pieces in the back to the scrolling of 'this year's model.'  If you haven't already guessed, those cushions need new fabric.  I'm hoping to find a punchy, graphic outdoor fabric to recover them.
Notice that I said I just have 4 chairs on the way- I did NOT order the matching table.  The table is not fully metal, the top is a plastic and got some pretty dismal reviews.  My first thought was that I would just buy a regular wrought iron table and either paint it to match the chairs or paint the table and chairs all another color.  I wasn't convinced with my plan, though.  I kind of had my heart set on a vintage eclectic patio scheme and too much wrought iron would be in danger of getting too matchy for my tastes.  I had looked at wood farmers-style tables last year, but since I'm not willing to pay an arm and a leg for something that's not revolting, I had pretty much abandoned that idea.  Enter IKEA.
This new-to-this-year wooden outdoor table I think has the perfect mix of rustic, vintage, and clean lines to play nice with my red wrought iron chairs (and it doesn't hurt that the price is kind on the wallet at $139).  When I first showed it to the Hubs, he asked if the sides were a design feature or if they raised for more room.  BOTH, and that's kind of why I'm in love.  I really like the look if them down (it feels very architectural that way) and I love the versatility of being able to put them up if we have a larger gathering.  I'm pretty much sold on it, but I do want to see it in person to make my final assessment.  Good thing I'll be taking a trip to IKEA very soon to pick up frames, floating shelves, and other misc for my nephew's room (just over 3 weeks 'till he's due, I need to get to finishing his space!).
Phew, that was verbose!  If you've made it all the way down here you deserve a prize!  So, what do you think of my chair/table combination?  Am I'm nuts or will it look amazing?
*photos via
sears
,
kmart
,
sears
, &
ikea