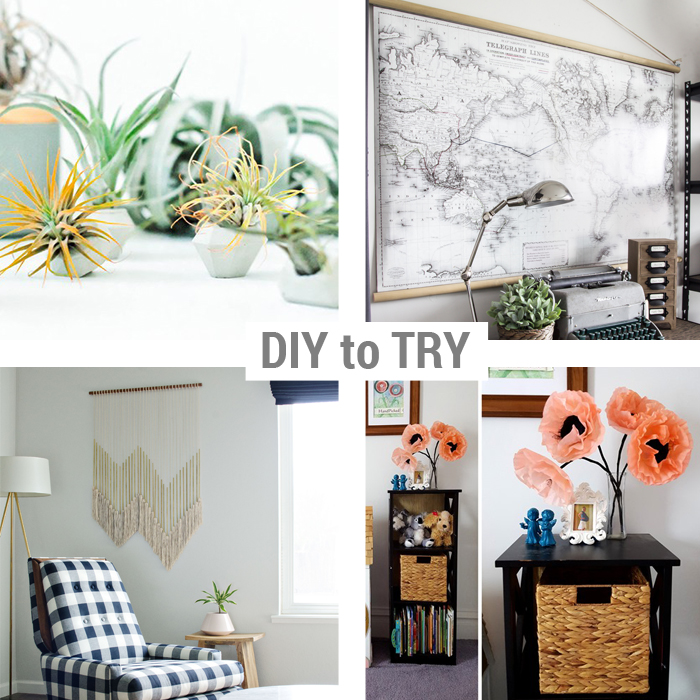 Even though I've been nursing the coffees this week since the time change, I'm so excited for sunlight past 5pm!  Lighter evenings are the boost that my maker motivation needs each (almost) Spring.  As you may have noticed, I've been on a bit of a DIY hiatus lately.  Never fear, however, I have fun stuff in the works!  Until then I've been filing DIY ideas away that I would love to try! None of these projects look DIY, which, in my opinion, is the mark of a great DIY!
**Obligatory note: please pin responsibly!  Click over to the original sources and pin from there to give credit where it's due**
Lauren at Bless'er House made this inexpensive poster look like a vintage roll-down school map.
These gem air plant planters from Lexy at The Proper Blog are just adorable!  I never would have thought to make concrete shapes with silicone ice cube trays.  What a wold of possibilities!!
I am endlessly fascinated by paper flowers.  It probably started when I decided to make 200+ paper flower puffs for my own wedding centerpieces many many many moons ago and since then, my eyes have been opened to the amazing possibilities that are paper flowers.  I absolutely adore Beth from Reality Daydream's coffee filter poppies!
While I'm usually not drawn to items that feel a bit more bohemian, this tassel wall hanging from Brittany Makes kills it.  I think it's the gold pip accents that elevates it to a very elegant place.  Textural and interesting without competing with other, bolder elements of the space.
What DIY's are you itching to do??